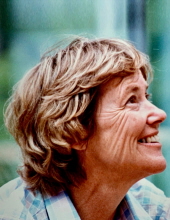 Obituary for Ann L. Macomber
Ann L. Macomber, age 89, died peacefully on July 2, 2019. She was surrounded by her art and her books, and by the love of her close friends and family, many of whom had gathered to watch sports and discuss current events, and to share stories and memories during her final weeks in Westwood MA.

"Andy," as she was affectionally known, was born in Cambridge MA on September 3, 1929, the daughter of Hildegard Drummond Leonard and Neil Leonard. Andy grew up in Newton Centre MA, where she attended public schools before graduating from Boston's Winsor School in 1947. From there she went on to Smith College, where she received her BA as an English major with a penchant for T.S.Eliot. Andy also acquired wanderlust along the way, having enjoyed both an adventurous trip to post-WWII Europe on a converted military troop ship in 1949, and an ambitious New Hampshire-to-Nova Scotia excursion on three-speed, balloon tire bicycles with three of her favorite Winsor School classmates.

As a first year student at Smith, Andy was assigned an upperclass advisor named Gail Macomber. When Gail invited a group of her advisees to her family's Wolfeboro farm for a weekend of outdoor fun, young Andy was game for every activity—a trait not lost on her advisor's older brother, George Macomber. The pair caught each other's attention again a few years later, when George attended a Halloween party with a pumpkin on his head, and Andy, dressed as a devil in red long johns, sported a long barbed tail and bright smiley eyes. Just a few years later, the couple was married in Francestown NH, in the apple blossom season of 1953.

George and Andy's lives were full of laughter and songs and sports and the causes they cared about, for all of their years together. They traveled extensively as early members of the worldwide Young Presidents Organization (YPO), including a trip to China in 1979, before the country was widely open to foreigners, and a trip to Moscow in 1961, during the week of the Bay of Pigs invasion—an event that they didn't hear about until they left USSR airspace. They delighted in taking ski trips, from the White Mountains to the Alps and beyond. Andy was particularly proud to have been part of a group that heli-skied 47,000 vertical feet on one epic day in the Canadian Rockies, back when she was newly-minted grandmother.

During the couple's Concord years, Andy's seasons were marked by the milestones of Patriots' Day parade parties, Garden Club meetings, and the time-management of three active children. A champion of organizing summers at the lake and winter vacations in snow country, Andy was a whiz at getting from point A to point B with both snow skis and hydrofoils firmly attached to her station wagon roof.

As her kids headed off for college, Andy focused her energy on the associate program of Boston's Museum of Fine Arts—a demanding and intensive undertaking which she often referred to as the masters degree she always wished she'd had time for. Of particular interest to Andy was the relationship of the MFA to its Museum School, which then was something of a poor step-child to its well-endowed overseer. Andy became chair of the MFA's Museum School Visiting Committee, where she immediately began to make positive changes by remolding the committee into a governing body, and by jumpstarting the annual SMFA Medalist gala, an event which honors a noteworthy contemporary artist and which provides a showcase for both the school's remarkable graduates and aspiring student/artists. Later on, when she and George had moved from Concord to downtown Boston, Andy became a lifetime overseer at the MFA, and was selected by Boston Mayor Menino to join the city's Boston Arts Commission, where she was proud to review and vet the selection and funding of Boston's new public art installations.

In addition to her dedication to the arts, Andy was a force for forward progress at numerous Boston non-profits, many of which helped provide opportunities for those whose lives hadn't been as fortunate as her own. Included among the local institutions she actively supported are The New England Home for Little Wanderers, St. Francis House, Judge Baker Children's Center, and Crossroads for Kids. Over and over again, Andy used her special gifts for expanding fundraising and program goals of each institution she served, and for mentoring and encouraging the next generation into leadership roles.

Andy's single greatest devotion was to her family: her son John Macomber, his wife Kristin, and their children, Ian and Eric; her daughter Grace Macomber Bird, her husband Jerry Bird, and their children, Derek, Meredith and Elena; and her son George (Jory) Macomber, his wife Martha, and their children, Sam, Clark and Anna. To the very end, the books on her bedside table and printouts from emails and websites were a testament to how fervently she wanted to know as much as possible about her children's and grandchildren's lives, studies, travels and passions.

In the words of Cuban-American artist Maria Magdelana Compos-Pons, Andy was "A great lady who inspired us all, and who lived a beautiful, gracious, elegant, compassionate life. The arts in Boston have lost a great supporter, the neediest have lost a caring giver, the immigrants have lost a door-opener. A better angel has joined eternity."

Andy was predeceased by her husband George Macomber, as well as by her parents and her brother, Neil Leonard.

A memorial service is scheduled for September 27th at 11AM, at the First Parish Unitarian Church, 20 Lexington Road, Concord MA.

In lieu of flowers, contributions in her memory may be made to Crossroads, ATTN: Development, 119 Myrtle Street, Duxbury, MA 02332 (www.crossroadsma.org/donate-now/) or to SMFA at Tufts, please make check payable to "Trustees of Tufts College" with "SMFA in memory of Ann Macomber" in the memo line, and mail to SMFA at Tufts University, P.O. Box 3306, Boston, MA 02241-3306 (www.smfa.tufts.edu/give).

Arrangements are under the care of Dee Funeral Home & Cremation Service of Concord.
Upcoming Events
Memorial Service
First Parish in Concord
20 Lexington Road
Concord, MA 01742