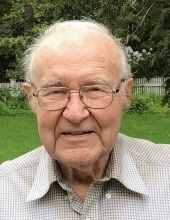 Obituary for Gene M. Brown
Gene M. Brown, of Concord, Mass. passed away on Friday, August 4, 2017 after a brief illness.

He was born in Pioneer, Missouri and raised in nearby Cassville until around age nine, when his family moved to Idaho. He worked his way up from walking to a one room schoolhouse to become Dean of Science at M.I.T., was the first member of his family to attend high school, and the only member of his graduating class to attend college. After a year as a college student in Idaho, he joined the Army Air Corps, where he was assigned to teach countermeasures against chemical weaponry.

He used the GI Bill to attend Colorado A&M to finish his undergraduate degree in chemistry, and was encouraged by a biochemistry professor there to attend graduate school, ultimately receiving his PhD from the University of Wisconsin in 1953 under the supervision of Esmond Snell. While working in Texas with Snell, he met and married Shirley Lewis, a faculty member there who taught music theory.

He was offered a faculty position in the biology department at MIT by Jack Buchanan, and began at MIT in 1954 as an instructor and later advanced through the ranks to full professor. He served as the associate head of the department from 1967 to 1977 and as the head from 1977 to 1985. Under his leadership, funding was obtained and plans were made for the launch of MIT's Whitehead Institute.

Given the choice of going into teaching or research, he opted for the former, so as to have more time to spend with his family, with whom he travelled extensively throughout the USA, including the Midwest, California, and Idaho. In addition to being a lifelong fan of the St. Louis Cardinals, he also embraced the New England Patriots in his adopted home.

In 1985 he became the Dean of Science at MIT, and resigned in 1991, to spend time teaching and doing administrative work in the department. He became a fellow of the American Academy of Arts and Sciences in 1999.

He is survived by two sons: James L. Brown of Houston, Texas, Lindsey A. Brown of Concord, Mass, and a daughter, Holly Brown Everbach, of Wallingford, Pennsylvania, as well as four grandchildren, Ian, Sophie, and Helen Everbach, and Lauren Brown. He was predeceased by his wife, Shirley, and a brother, James.

Relatives and friends are invited to Gene's memorial service on Saturday, September 9th at 10 am in First Parish, 20 Lexington Road, Concord Center. A private burial service was held in Concord's Sleepy Hollow Cemetery.

Concord's Town Flag will fly at half-staff on Saturday, September 9th in recognition of his service in the United States Army.

Arrangements are under the care of the Dee Funeral Home of Concord.
Previous Events
Funeral Service
First Parish in Concord
20 Lexington Road
Concord, MA 01742
Cemetery Details
Location
Sleepy Hollow Cemetery
Bedford Street
Concord, MA 01742