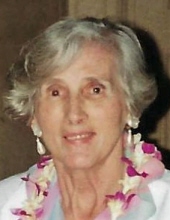 Obituary for Suzanne M. Antognoni
Suzanne Marie (Servais) Antognoni was born in Concord, MA on October 9, 1925, and died at home in Carlisle, MA on June 30, 2019, while surrounded by her loving children and family. She was 93.

The daughter of Laura Patterson (Curley) Servais and Ivan D. Servais, she was a direct descendant of Reverend Peter Bulkeley, founder of the town of Concord, MA.

Suzanne attended primary and secondary school in Concord. As a child, she was provided with private lessons to play violin with her sister Jane. Despite never learning to read music, she excelled as a violinist and became First String for the Concord Orchestra in her late teens and early twenties. She also performed recitals with her sister for Julian Decordova at his mansion in Lincoln. Her subsequent studies at Mount Ida Junior College in Newton provided her with a strong foundation in secretarial skills.

Suzanne's husband, Joseph Severino Antognoni, met his future wife while making a house call to repair her father's radio. Joe, who had an electronics store in Concord Center, was smitten at first sight. Being determined and persuasive, he didn't leave until she consented to go out with him in the coming weeks. They married in 1950, settled into their first home on Sudbury Road in Concord, and raised their first 2 children, Susan and Peter, there. Later, moving to Farmington, ME, Paul was born, and then on to Nashua NH, where their 4th child, Joan, was born. Eventually settling in Carlisle, MA in 1960, Suzanne would remark, "Practically every time we moved, I had a baby."

An active civic member in both Carlisle and Concord, Suzanne was both a Brownie and Girl Scout troop leader, a dedicated volunteer at Emerson Hospital, and a long time member of the Carlisle Garden Club. She also devoted many years to the Carlisle School lunch program. Her true love was gardening in her glorious yard each day. In her final years, a golf cart made possible her travels around the large grounds filled with flowering annuals and perennials.

Of special note is her connection with the Case Collaborative, where she assisted children with Special Needs. Suzanne found this work especially rewarding, having been challenged herself with a severe hearing loss since childhood. Additionally, patients in the Alzeimer's Unit at Robbin's Brook in Acton, MA, enjoyed her weekly social visits filled with good cheer and friendship.

Suzanne was predeceased by her husband, Joseph, in 2016; her sister, Jane (Servais) Brown, in 2011; and her sister, Joan (Servais) Coleman, in 2007.

She leaves behind her daughter, Susan Hutchinson of Shirley, MA; son Peter and daughter-in-law Babette Antognoni of Lowell, MA; son Paul and daughter-in-law Cheryl Antognoni of Frederick, MD; and daughter Joan Antognoni of Maynard, MA, along with 6 grandchildren and 2 great grandchildren. Suzanne will ever be known for living life to its fullest and her loving, genuine demeanor.

Family and friends may gather for visiting hours in the Dee Funeral Home, 27 Bedford Street, Concord Center on Friday, July 19th from 4 to 8 pm. A private funeral will take place on Saturday, July 20th, followed by burial at Sleepy Hollow Cemetery in Concord.

In lieu of flowers, contributions in her name can be made to the Carlisle Council on Aging, c/o Angela Smith, 66 Westford St, Carlisle, MA 01741 or to the Concord Lions, P.O. Box 382, Concord MA 01742 or e-mail at info@lionsofconcord.org

Arrangements are under the care of Dee Funeral Home & Cremation Service of Concord.
Previous Events
Visitation
Dee Funeral Home of Concord
27 Bedford Street
Concord, MA 01742
Cemetery Details
Location
Sleepy Hollow Cemetery
Bedford Street
Concord, MA 01742