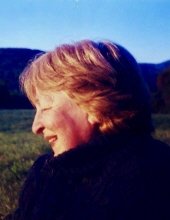 Obituary for Sarah Winifred Fricke
Sarah Winifred (Benton) Fricke, 93, of Concord, MA, formerly of Berry Brook, NY, died peacefully at Emerson Hospital on Monday, July 29, 2019. She was the cherished wife for 53 years of Roger Alan Fricke.

Born on June 23, 1926, Sarah was the daughter of the late Hugh Morrow and Mary Estella (Paul) Benton. She grew up in Berry Brook before moving to Lockport, NY with her family, where she graduated from Lockport High School. She received an undergraduate degree from Houghton College in New York, and also earned a master's degree in music from Temple University in Pennsylvania.

A devoted educator, Sarah was a beloved elementary school teacher for 43 years in the Lower Merion School District of Pennsylvania. She was a prolific writer who enjoyed composing essays and memoirs. Sarah also held a deep passion for music, art, and nature.

In addition to her husband, her memory will live on through one daughter, Gretchen Melinda Grant and her husband Jason Benjamin Grant of Concord, her granddaughter, Clara Margaret Helen Grant, also of Concord, her brother, John Thomas Benton and his wife June Faith Benton of Wisconsin, and many nieces and nephews. She was the sister of the late Robert Hugh Benton, Benson A. Benton, Bill M. Benton, and R. Paul Benton.

Sarah will be laid to rest during a private burial service at Sleepy Hollow Cemetery in Concord.

In lieu of flowers, contributions in her memory may be made to The Nature Conservancy (www.nature.org).

Arrangements are under the care of Dee Funeral Home & Cremation Service of Concord.
Cemetery Details
Location
Sleepy Hollow Cemetery
Bedford Street
Concord, MA 01742