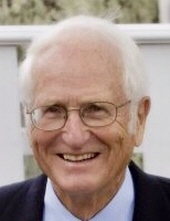 Obituary for Jack L. Kerrebrock
Jack L. Kerrebrock, age 91, of Lincoln, Professor Emeritus of Aerospace and Aeronautic Engineering at MIT, died at home on Friday, July 19, 2019. He was the loving husband for 12 years of Rosemary Redmond (Keough) "Crickett" Kerrebrock, and was married for fifty years to the late Bernice (Veverka) "Vickie" Kerrebrock who died in 2003.

Born in Los Angeles, California on February 6, 1928, he was the son of the late Oscar and Florence (Hoy) Kerrebrock.

He taught at MIT and internationally for over forty years. He was honored to teach in technical universities around the world including China, India and Russia. He was world-renowned in his field, but more importantly, loved and respected by his many students.

He was an enthusiastic outdoorsman who was never happier than when he was climbing a mountain, hiking a wilderness trail, or leading a group of kids through ice and snow to teach them independence and survival skills. He was a member of the Explorer's Club.

Jack was an avid sailor and loved to sail the waters of Cape Cod and the eastern shore on his boat Puffin. He was a long time member of the Woods Hole Yacht Club and passed his love of the sea onto his children.

He ran his first Boston Marathon in his early fifties on a whim with no training. He followed that with several more including the Marine Corps Marathon in DC.

He and Crickett cherished their travels to South Africa, Scotland, Tuscany, Paris, and especially a trip to Canaveral for one of the last shuttle launches. Jack had been an Associate Director of NASA in the 1980's, and enjoyed a professional relationship and friendship with many in the space exploration and astronaut community.

His was a life well lived and he will be missed terribly. He died on his own terms and separately thanked both of his amazing caregivers,Nadia Sydney and Yvrose Marcelus, the week before his passing to let them know how much he cared for and appreciated them.

In addition to his wife, Jack was the father of three children and their two spouses, Nancy Kerrebrock and her husband Clint Cummins of Palo Alto, CA, Peter Kerrebrock and his wife Anne of Hingham, and the late Christopher Kerrebrock. He also leaves behind five grandchildren, Lewis Kerrebrock, Gale Kerrebrock, Renata Cummins, Skyler Cummins, and Lance Cummins.The family would like to take this opportunity to thank Nadia Sydney and Yvrose Marcelus, Jack's phenomenal caregivers. He is fondly remembered by Crickett's stepchildren, Paul J Redmond Jr. and his partner Joseph Palombo, Kelly Redmond and her husband Philip Davis, Maura Redmond, Meaghan Winokur and her husband James and their children, Laine and Alicia Winokur.

Jack's family will gather for a private service in the Dee Funeral Home, followed by burial at Lincoln Cemetery. A public memorial service is being planned and will be announced soon.

In lieu of flowers, contributions in his memory may be made to the Jack and Vickie Kerrebrock Fellowship Fund, c/o Massachusetts Institute of Technology, 600 Memorial Drive, W98-200, Cambridge, MA 02139-4822.

Arrangements are under the care of Dee Funeral Home & Cremation Service of Concord.
Cemetery Details
Location
Lincoln Cemetery
Lexington Road
Lincoln, MA 01773