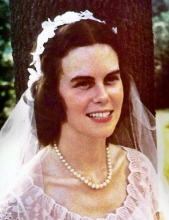 Obituary for Elizabeth Spencer Dawson
Elizabeth Spencer Dawson, 88, of Bedford, MA died peacefully on November 16, 2018 after a long illness, surrounded by her family and her loving husband of 64 years, Dr. David Dawson.

Elizabeth Blackman Spencer, known as Beth, was born on January 24, 1930 in Boston, and grew up in Wellesley Hills and later Stockbridge, MA. She attended Wheaton College, spent her junior year studying in Paris, and graduated from Barnard College with a B.A. in Art History. While at Wheaton, Beth met David Michael Dawson, a Harvard student. The two married in 1954 in Stockbridge, and first located in David's hometown of Ann Arbor, MI, where he was attending medical school and she was completing her MS in Social Work at the University of Michigan. Their first daughter, Jenny, was born in Ann Arbor. The family moved to Cambridge, MA, where David completed his internship and residency at Peter Bent Brigham Hospital and Boston City Hospital, with a two-year interruption for his service in the Army in San Antonio, TX as a medical officer. The couple's second daughter Mollie was born in San Antonio. At the conclusion of the Korean War the family returned to Cambridge, MA where Dr. Dawson began his long medical career at Brigham and Women's Hospital. Their three sons, Timothy, Matthew and Andrew were all born in Boston.

Beth and David raised their five children in Cambridge, and later in Concord, MA, where the family moved in 1972. In Concord, Beth worked at the Herb Patch, a shop on Main Street; as a social worker at Emerson Hospital; and later operated a successful bed and breakfast out of the family home in Concord for 11 years.

Beth had a strong personal commitment to social justice and community service. She volunteered at AIDS Action Committee and Stop Handgun Violence in Boston, and participated in many political protests over the years, including marches in Washington protesting the war in Nicaragua and handgun violence. With her husband, she volunteered at the Concord Players, with the Concord Sister City program in Guatemala, and later through their church, First Parish, where they both sang in the choir for many years. Beth and David were avid birdwatchers, and traveled to Costa Rica on birdwatching trips with friends, as well as to Europe, Australia, Hawaii, and on many driving trips around the U.S.

Beth was a lover of nature, birds, animals, music, writing, scrapbooking, the arts, and above all her family. She was never happier than when spending time with her husband and family at their beloved summer home in Peacham, VT, looking for bluebirds and hummingbirds and working in her flower garden.

Beth's sister, Sonya Spencer Norton predeceased her. Beth leaves her husband, Dr. David Dawson; her brother-in-law Dr. Peter Dawson and his wife Joan of Boulder, CO; her brother-in-law James Norton of Vineyard Haven, MA; her daughter Jennifer of Beverly, MA; her daughter Melanie of Montpelier, VT, and her son Shane Abrams and his wife Linnea Wilhjelm; her son Timothy, his wife Melanie, and their children Brendan and Sabrina of Sydney, Australia; her son Matthew, his wife Kristen Hawkeswood, and their children Eloise Hawkeswood-Dawson and Cosima Hawkeswood-Dawson of Toronto, Ontario; her son Andrew, his wife Ellen, and son Grady of Los Angeles, CA; and many nieces and nephews.

A celebration of Beth's life will be held on Friday, December 7th at 2 pm at First Parish Church, 20 Lexington Rd, Concord, MA 01742.

In lieu of flowers, contributions may be made to the Alzheimer's Association (www.alz.org) or to the ACLU (www.aclu.org).

Arrangements are under the care of Dee Funeral Home & Cremation Service of Concord.
Previous Events
Celebration of Life
First Parish in Concord
20 Lexington Road
Concord, MA 01742