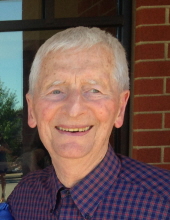 Obituary for Dr. Theodore Dreier, Jr.
Dr. Theodore Dreier Jr., a retired psychiatrist whose interests ranged from medical research to playing the cello and writing poetry, and who raised four children with his wife, Katharine, died Feb. 4 in Lincoln, Mass.

Dreier, 89, a longtime Cambridge and Belmont resident, studied dance as a young man with famed choreographer Merce Cunningham, graduated from Harvard College and prepared to become a professional musician in Germany before switching to a medical career. His psychiatric practice spanned the lifecycle, beginning with children, at Boston Children's Hospital; proceeding to couples' therapy; and evolving to specialize in geriatrics at McLean Hospital in Belmont, where he worked for more than 30 years.

Despite the decade of study and training that he knew it would entail, Dreier decided to become a doctor after helping innovative Philadelphia psychiatrist John Nathaniel Rosen treat mentally ill patients. "Those 10 years are going to pass anyway," Dreier reasoned, "and at the end of them, do I want to be a psychiatrist, or not?" He took pre-med courses at night, and then attended Temple University School of Medicine, graduating in 1961. He did his internship at San Francisco General Hospital and completed a residency in psychiatry at Massachusetts General Hospital.

Throughout his life, Dreier oscillated between two main themes, "artistic expressive" and "intellectual scientific," as he described them in Harvard reunion notes. During the 1960s at Boston Children's Hospital, he conducted research with Dr. Peter Wolf on infant sucking and breathing patterns, publishing results in medical journals. In his 80s, he sang in the Harvard-Radcliffe Chorus, returned to writing poetry and drawing and painting.

Toward the end of his life, Dreier retained his ability to waltz and to appreciate music ranging from classical to bluegrass.

Born in Albany, New York, Dreier acquired the nickname "Quintus" as the fifth "Theodore Dreier" in his family. His father, Theodore Dreier Sr., a General Electric Co. engineer, and his mother, Barbara Loines Dreier, went on to have two more sons and a daughter. When Ted Dreier Jr. was 4, they moved from Winter Park, Florida, to North Carolina, helping to found the legendary Black Mountain College. Faculty at the experimental school included Cunningham, artists Willem de Kooning and Josef and Anni Albers, inventor R. Buckminster Fuller, architect Walter Gropius and composer John Cage.

As a boy, Dreier attended the Asheville Farm School. He enjoyed raising goats, naming them Abercrombie and Fitch. Growing up in the college's vibrant artistic and academic community, Dreier "…caught, by contagion, some of the excitement of the avant-garde musicians, painters and poets who were drawn there," he wrote in 2001.

After graduating from Vermont's Putney School, Dreier attended Black Mountain College for two years. He transferred to Harvard, where he majored in music, graduating cum laude in 1952.

At a Cambridge dinner party in 1965, Dreier met Katharine Eaton Read, a recently widowed mother of two and teacher at Shady Hill School. Kit, a fellow cellist, invited him to join her chamber music group. Their courtship included visits to her family in Vermont and his parents on Martha's Vineyard and in Lake George, New York. With two small cars, they could not drive anywhere together with their cellos.

The couple married in 1967. Dreier legally adopted her two children, Richard Eaton Read and Katharine Hallett Read. Two more children, Elizabeth Low Dreier and Ruth Antoinette Dreier, were born in 1967 and 1969. The family, which had grown to fit into a Volkswagen bus, settled into a Cambridge home. Ted and Kit Dreier lived in the house at 70 Fayerweather St. for 26 years. They moved in 1994 to Belmont, where Kit was elected as a Town Meeting member and helped to lead historic preservation and land conservation projects. They moved last year to The Commons in Lincoln retirement community.

In 1972, the couple built a rustic Martha's Vineyard summer home on Seven Gates Farm, a community co-founded by Dreier's maternal grandparents. Nicknamed Cranberry Hollow, the shorefront house was the site for 40 years of family vacations and reunions. Dreier enjoyed swimming and snorkeling in Vineyard Sound, clearing brush and gardening, and joining friends and neighbors for cookouts, sing-alongs and charades.

Dreier passed away peacefully at Care Dimensions Hospice House. Survivors include his wife, Kit, of Lincoln; sister, Barbara Beate Dreier of Livingston Manor, New York; his three daughters, Katharine Read Villars and her husband, Thomas, of Norwich, Vermont, Elizabeth Low Dreier, of Menlo Park, Calif., and Ruth Antoinette Dreier, of Santa Rosa, Calif.; son, Richard Read of Portland, Oregon; and granddaughter, Nehalem Kunkle-Read, of Somerville, Mass. Two brothers, Mark and Edward, predeceased Dreier.

A memorial gathering will be held in spring, at a date to be announced.

Memorial donations may be made to the Black Mountain College Museum and Arts Center, www.blackmountaincollege.org, or the Vineyard Conservation Society, www.vineyardconservation.org.

Arrangements are under the care of Dee Funeral Home & Cremation Service of Concord.