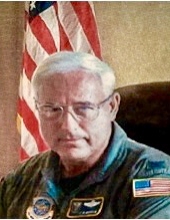 Obituary for Col. James Kavanagh Moran
Colonel James Kavanagh Moran USAFR (Ret.), 72, of Beaumont, CA and formerly of Concord, MA, died on July 15, 2019.

Born in Concord, MA on Jan. 20, 1947, he was the son of the late Edna R. (Massey) and William J. Moran, Sr. Jim was the beloved brother to Rita F. (John W.) Pope, Chelmsford, MA, Kathleen (Jurgen) Appis, Chester, NJ, Rosemary (the late Carl) Madia, Hyannis, MA, William J. Moran, Jr., McDonough GA, Robert R. (Natalie) Moran, Concord, MA. Predeceased by sisters Ruth E. Moran and Edna Mae Moran. Admired and loved Uncle to many nieces and nephews. He leaves his companion and partner Janice M. Murphy of Idyllwild, CA.

Jim grew up in Concord in the neighborhood fondly called White Row, and was a proud graduate of the Concord Carlisle HS Class of 65. He was a distinguished honor graduate of the University of Massachusetts Reserve Officer Training Corps program in 1969. In 1993, he earned a Master's Degree in National Security and Decision Making from the United States Naval War College, Newport, RI.

Jim's military career spanned 4 decades; serving in Vietnam through the Persian Gulf Wars. He joined the United States Air Force Reserve (Full Time) as Air Reserve Technician in 1975 advancing over the course of his career to full Colonel. He piloted the T-37A,T-38A,C-141, C-5A, and KC-10, amassing over 10,000 hours. He received numerous recognitions, including the Legion of Merit, Vietnam Service Medal, Southwest Asia Service Medal, Afghanistan Campaign Medal, Iraq Campaign Medal, and the Kuwait Liberation Medal. Jim retired in 2005 after more than 35 years of continuous service and went on to work as a Pilot Instructor with the Boeing C17A Aircrew Training System Program at March ARB, CA.

Jim enjoyed travelling to the South Pacific, scuba diving, sailing, and chasing freight trains photographing them across the country. He took great pleasure in road trips, to the Arctic Circle and back in his truck, and driving his new Corvette, end to end, on Route 66. At home, Jim created a garden sanctuary for many varieties of birds and bobcats, too.

"James K" was the epitome of an Officer and Gentleman and touched many military and civilian lives.

Interment with military honors will be at Riverside National Cemetery in Riverside, California, on August 9, 2019, at 2:15 PM. A memorial service will be held locally in Concord, Massachusetts, at a later date.

In lieu of flowers, contributions in his memory may be made to The Salvation Army (www.salvationarmyusa.org) or the Scholarship Fund of Concord and Carlisle, 34 Walden St., Unit 217, Concord, MA 01742-2542 (www.thescholarshipfundofcc.org/)

Local arrangements are under the care of Dee Funeral Home & Cremation Service of Concord.